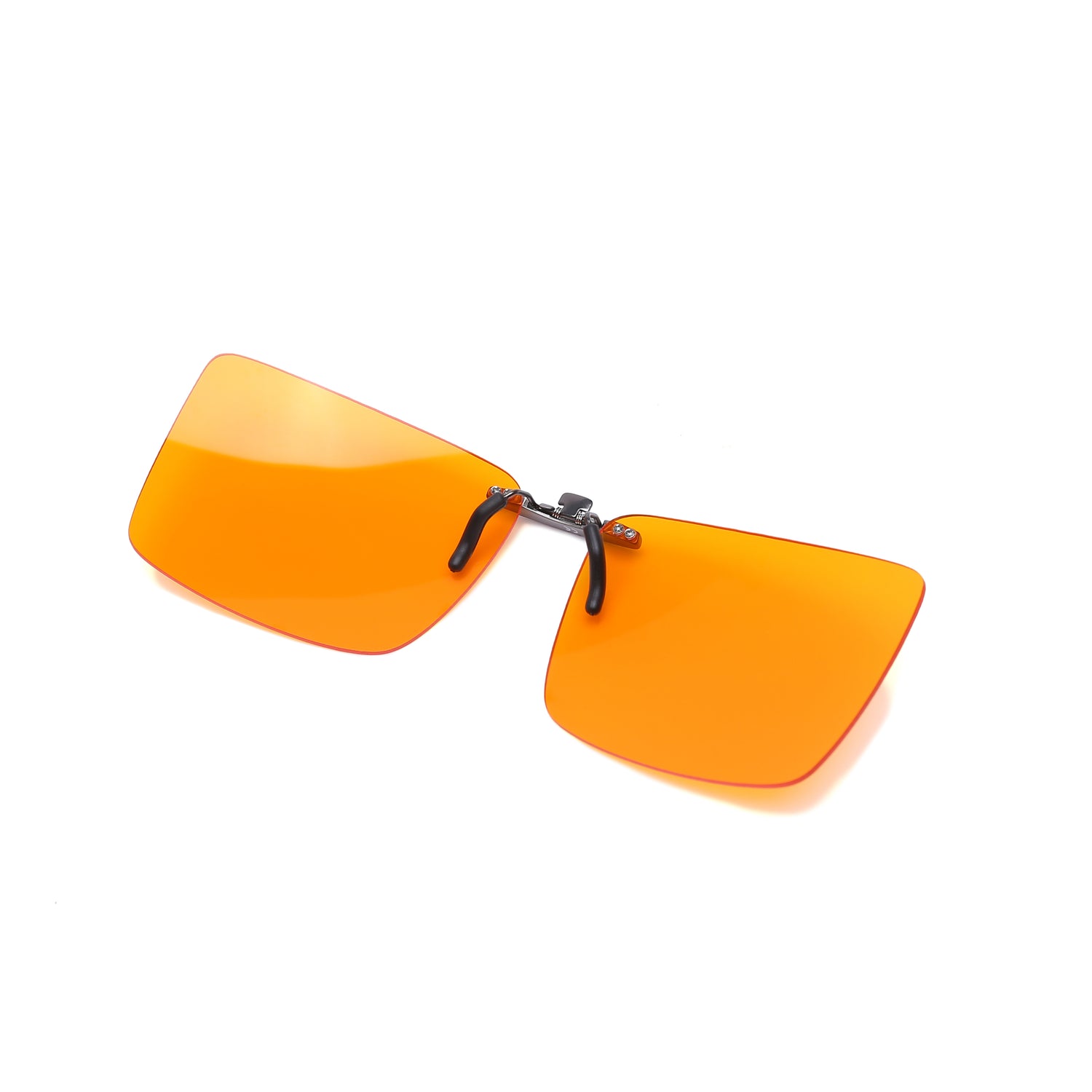 Blocks 99% of Blue Light
Do you spend hours looking at screens every day and having problems falling asleep at nights?

If so, you may be experiencing blue light exposure. But there's no need to worry, because our Vyzia Blue light blocking clip on glasses can help! These clip on lenses blocks 99% of harmful blue light, and they fit over your prescription or reading glasses.

Features & Benefits:
- Blocks 99% of blue light: This helps reduce digital eye strain and induce sleep.
- Fits over your prescription or reading glasses: No need to worry about finding new glasses that fit over your existing ones.
- Clips are made with aluminium alloy: This makes the glasses more durable.
- Impact-resistant polycarbonate lenses: These lenses are built to last.
Frame Dimensions
Lens Width - 60mm

Lens Length - 45mm

Nose Bridge - 17mm
Rim Thickness - 5mm or less
Clip-on Selections
Purpose

Reduce Computer Eyestrain (Daytime & Night-time)

Purpose

Promote Sleep and Reduce Computer Eyestrain (Daytime & Night-time, Preferably Night-time)
1000+ Verified 5 Star Reviews | 50,000+ & Counting Elated Customers
Here's what our customers are saying:

"I've been using these glasses for a few weeks now and I love them! I don't experience a hard time falling asleep while using them." By Kerrona Y

"I was a little hesitant to try these, but I'm so glad I did. They've made a big difference in my eye health, and i was able to fall asleep faster in the nights." By Marlon M


Don't let blue light strain your eyes or disrupt your sleep patterns. Order our Blue Light Clip-On today and experience the benefits of reduced eye strain and better sleep quality.


Brand Story From Our Founder
I am humbled and excited to share with you the journey that led to the creation of our revolutionary sleep glasses. As the founder of this remarkable company, it is my privilege to introduce you to our mission and the vision that drives us forward.
Our story began with a personal struggle - the struggle of sleeplessness. Like many of you, I found myself tossing and turning at night, unable to find rest despite the exhaustion. It was during one of these restless nights that I stumbled upon the fascinating world of blue light and its impact on sleep.
As I delved deeper into the research, I realized that the very screens we love and rely on emit a powerful blue light that disrupts our natural sleep patterns. The idea that modern technology could be harming our sleep, an essential pillar of well-being, was a revelation that ignited a fire within me.
Driven by a passion for finding solutions, I assembled a team of brilliant minds, each equally committed to the cause. Together, we embarked on a journey of innovation, combining cutting-edge technology with sleek design to craft the perfect sleep glasses - a blend of science and style that would change the way we sleep forever.